The special chewing gum combination for the best oral hygiene

The natural daily toothbrush with pure flavors and teeth whitening effect for healthy teeth and a healthy oral flora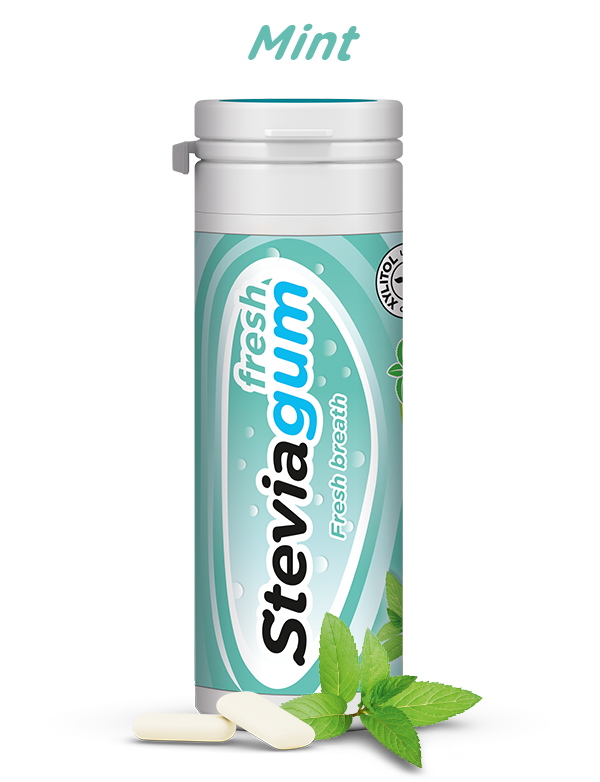 – increases production of saliva
– reduces bacteria
– taste: strong spearmint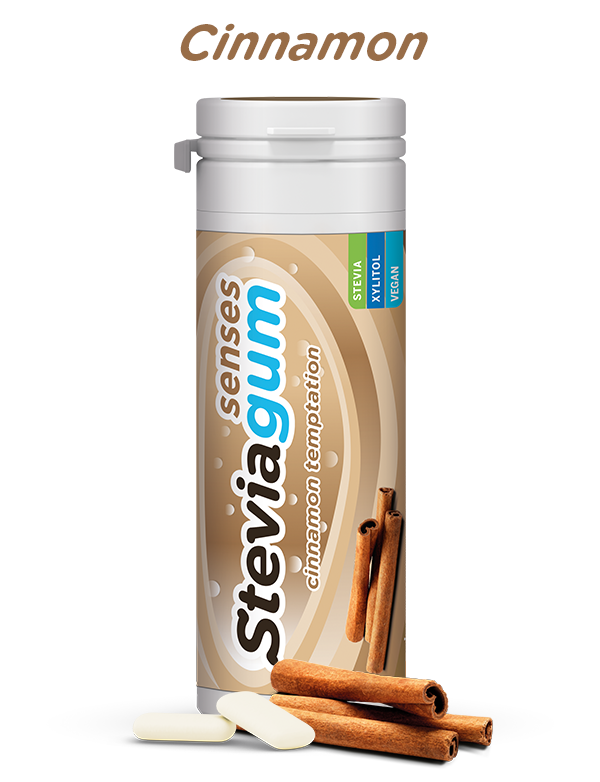 – increases production of saliva
– reduces bacteria
– taste: cinnamon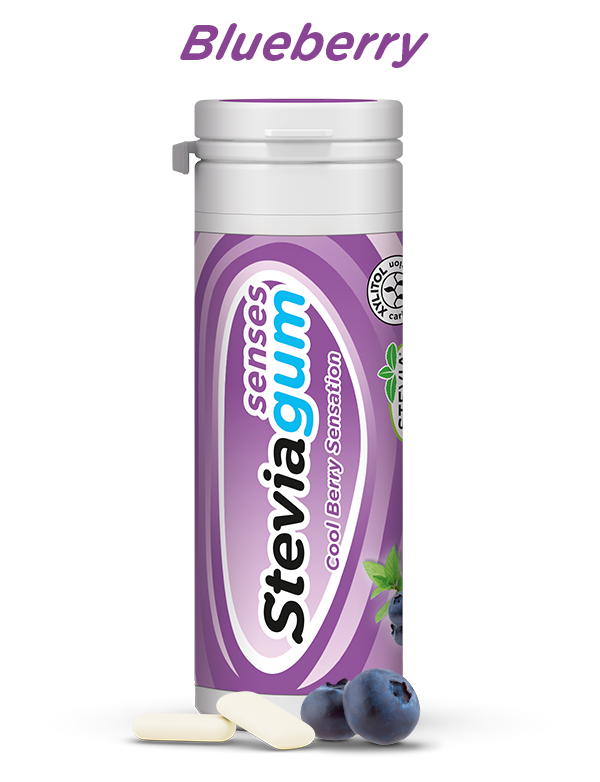 – sensibles the mouth
– increases the taste experience
– taste: blueberry mint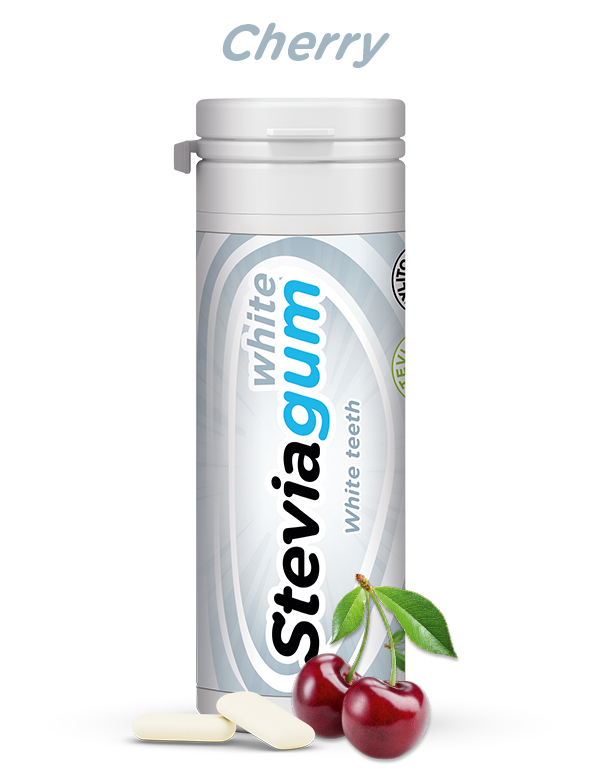 – micro-granulates reduce plaque
  formation
– remineralisation of dental enamel
– taste: cherry mint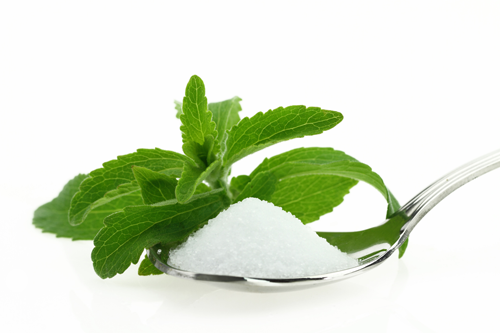 Stevia has been known for thousands of years in South America for the intensive sweetness of its leaves, offering a 250 times sweeter taste than sugar. In contrast to sugar, stevia does not have any nutritional value.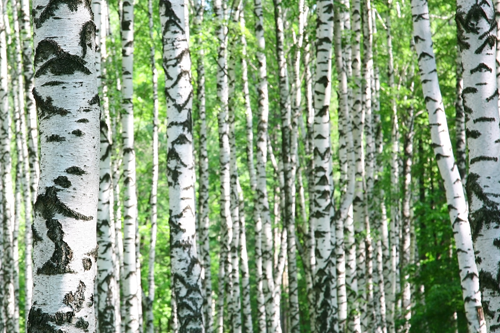 Xylitol is not only used as a sugar substitute, but has also been successfully employed as dental prophylaxis. Xylitol can be extracted from resources such as birch, strawberry, raspberry, plum and even from cereals.
* confirmed by the European Food Safety Authority EFSA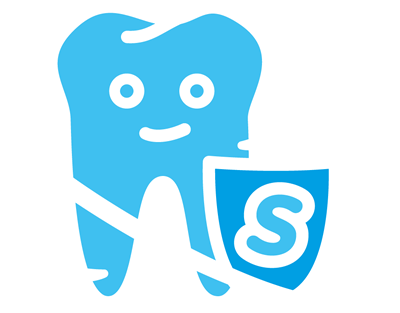 - 2 chewing gums after your meal!
- 3 times a day at a minimum!
- Don't forget snacks in-between!

Our Steviagum products respond to high quality standards without compromise. This is why we sought and received vegan, kosher and halal certifications.
Our Steviagum products are suitable for a vegan lifestyle. We don't use animal products or by-products and manufacturing excludes animal testing as well as any contact to animal products in the process.
Our certification attests that our Steviagum products are strictly handled according to the high standards of kosher guidelines.
Our certification assures that our Steviagum products are handled within Islamic guidelines and requirements, ensuring conforming ingredients and manufacturing.
Lemon Pharma France SARL
25 route de Blois
41230 Soings en Sologne
France
Mail: info@lemonpharma.com
Lemon Pharma France SARL
25 route de Blois
41230 Soings en Sologne
France
E-Mail: info@lemonpharma.com
All texts, images, graphic elements and other information material on this website, including structure, layout and programming, are protected by copyright. Reproduction, publication, recording or in any other way distributing information or data from this website, especially the use of texts, text passages or graphical materials for any purpose other than gathering information about our products, is not allowed without prior written permission from Lemonpharma SL.
Disclaimer
We have carefully researched and reviewed the contents of our internet presentation. Lemonpharma SL cannot however guarantee the correctness, completeness and current status of the information on this website.
We are not responsible for the contents of third-party websites referred to in this online publication. We do not accept any responsibility for the contents of these linked sites. We accept no liability for either direct or indirect material or financial damages arising from the use of information found on this website or on linked websites.
Legal validity of this disclaimer
This disclaimer is to be regarded as part of the internet publication from which you have been referred to this website. Should sections or individual terms of this text not, no longer, or only incompletely correspond to current law, then the other parts of this document remain unaffected by this in respect of their content and validity.